Arriving By Auto
There are 3 entrances to The Grand Canyon. 90% of the visitors arrive at the south entrance which is pictured at left.

They have passed through Tusayan (pronounced "Too-SAY-on") which is a tourist town just outside the south entrance gate to the park. It caters to the millions of tourists who pass through the area annually. It has a year-round population of about 600 people.

The majority of visitors to the South Rim of the park arrive from the south on Arizona Route 64 (AZ 64) (conjoined with US highway 180). You can take US Route 180 from Flagstaff (US 180) northwest to Valle where it joins with AZ 64, and then continue north to the south rim.

Another option is to take I-40 to Williams where it junctions with AZ 64 and continue north to the south rim. Both routes are approximately 80 miles. Check out the information on Williams to the Grand Canyon.

South Entrance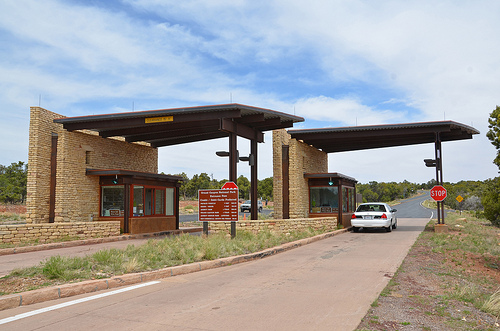 For the east entrance, take US 89 south from Page, AZ or north from Flagstaff to the junction with AZ 64 at Cameron. Be sure to visit the Cameron Trading Post for good food (enjoy the real native American rugs on the walls), great motel, and a store that you have to see to believe.
It is approximately 25 miles from the Cameron junction to the east entrance of the park, and approximately 25 mi from the east entrance to the south rim village area, the heart of the South Rim. The drive is called Desert View and is a 26 mile scenic drive along the edges of the canyon.
Along the way, six developed canyon viewpoints including the Desert View Watchtower, four picnic areas, and five unmarked pullouts are accessible with private vehicles, in addition to the Tusayan Ruin and Museum.

The Desert View services area includes the gift shop, trading post and snack bar, visitor center/bookstore, marketplace, service station, campground, and rest rooms.
The first automobile was driven to the Grand Canyon in 1902. Oliver Lippincott from Los Angeles, drove his Toledo Automobile Company-built car to the South Rim from Flagstaff.

Lippincott, a guide and two writers set out on the afternoon of January 4, anticipating a seven-hour journey. Two days later, the hungry and dehydrated party arrived at their destination.

A 277 mile long canyon separates the park into South and North Rims. The Grand Canyon of the Colorado River is a mile-deep, and creates a barrier that bisects the park. Visitors to the North Rim use ALT US 89 to AZ 67 (closed in winter).

Even though the average distance across the canyon is only 10 miles, be aware that it is a five-hour drive of 220 miles between the park's South Rim Village and the North Rim Village.

About 1955 National Park Ranger
I-40 Travelers Tip - If you are traveling across Arizona on I-40 and decide to see the Grand Canyon, we suggest you go into the park from one entrance and go out the other.

If you are headed west, go in the east entrance and go out the south entrance. If your headed east, go in the south entrance and go out the east entrance.

The distance from I-40 to the park is about the same for either entrance.
This page is sponsored by:
Bookmark This Website In Your Favorites For Later Reference