Mule Rides To The Bottom Of The Grand Canyon
For the more adventuresome visitor, looking to create a true lifetime memory, why not take a mule ride down into the Grand Canyon. Saunter along canyon trails atop a sure-footed mule, and experience a part of the Grand Canyon's history.

Used for their strength and stability beginning in the 1920s, mules have carried visitors from around the world (including President Theodore Roosevelt) down the canyon trails.

The mule trips can leave from both the north and south rims. They can go down below the rim and back up the same day. They also have some that take you down to Phantom Ranch for an overnight stay. You'll head back again the next day by a different route.

The mule trips are fun and very safe, if you go by their record. The Park Service hasn't lost a passenger in over 200 years! This is one of the best ways to see the canyon there is.
These trips are booked up to a year in advance, but you'll likely have a shorter wait time if you want to book Grand Canyon mule rides for the winter months. The canyon interior is scorching hot in the summer, so a winter trip can be a great choice. It stays relatively warm down in the canyon, without the opressive summer heat. The south rim is open all year.

Kolb Studio is on the left, Mule Ride starting point is the next brown colored building going right,
and the trail headed down into the canyon can be seen as it passes by Kolb Studio.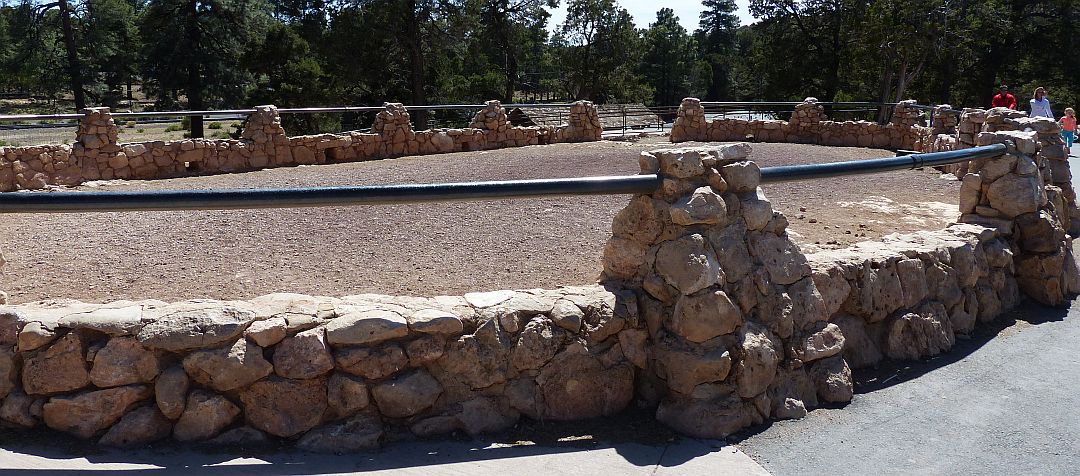 Mule corral where trips begin.

What is a mule?
Mule Barns
South Rim Mule trips may be booked 13 months in advance and fill up early. A waiting list is only maintained for day before cancellations, and chances of obtaining reservations on the waiting list are slim. If you wish to make a trip into the canyon on a mule, plan ahead! There are several options for mule trips, click here for park information on them.
This page is sponsored by:
Bookmark This Website In Your Favorites For Later Reference